Dial Thermometer / Hygrometer $75NZ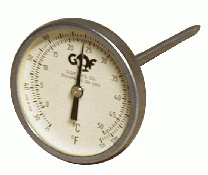 This is the most accurate incubator thermometer available and has approximately a 100mm stem which can be inserted in a 4mm hole to permit reading of temperature from outside of incubator. The 50mm dial permits easy and accurate reading of temperature and is graduated in one degree increments from 25 degrees to 125 degrees. Wicks are attached and placed in the humidity pan to allow thermometer to read wet bulb temperatures.
THIS THERMOMETER SHOULD BE USED IN CIRCULATED INCUBATORS ONLY.
Price $75NZ