Rcom Maru 380 - $1995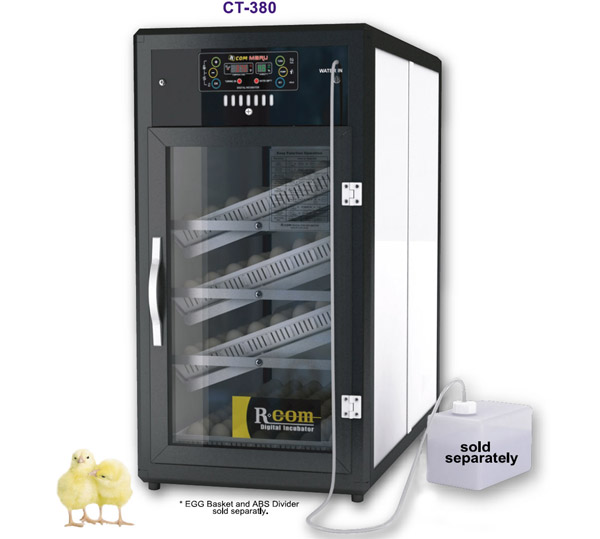 Main Functions
Has 6 trays for holding eggs, + dedicated hatching tray!
Auto temperature & humidity control and set function
Auto egg turning & turning interval set function (1h, 2h, 3h)
Auto turner uses slide method to agitate eggs
LCD/FND display for easy recognition of incubation state
Artificial intelligence electronic control system applied from Rcom's most impressive technology
High reliability temperature and humidity sensor applied, produced by Sensirion, Swiss manufacturing
Transparent double insulated view window
Sliding air-vent able to control the air in the chamber
Minimized temperature variation applied from Rcom optimum air flow technology
Water heating system for evaporation eliminating bacteria
Water level sensing & warning system
Superb high density foam board for maintaining stable temperature & maximizing energy efficiency
Other Functions
Degree C/ degree F interchangeable
Hatching chamber equipped
Egg turning stop on opening window
Inbuilt humidifying system
Warning & display fucntion of abnormal temperature caused by ambient temperature fluctuation
Incubation data memory and alarm function in case of power outage
Equipped water nipple in front for handy water supply
Auto horizontal egg turner stop function & manual egg turner positioning function
Aluminum profiles used for duratbility and easy assembly
Adjustable universal egg tray able to be used for placing different size eggs according to species
Maintenance cover for easy cleaning and maintenance after hatching.
Dimensions
Model # CT-380
100W Consumption
64 lbs
17.5" x 32.8" x 32.3"
Technology that will shape the future!
With an integrated, simplified control panel, you can easily adjust settings as needed, allowing you to have a great hatch every time.
The easy to use controls allow you to adjust the turning intervals, set the temperature, and give you a digital readout of both temperature and humidity.
With 3 universal trays included, as well as a dedicated hatching tray, you have enough space to easily incubate up to 380 chicken eggs! Want to incubate a different type of egg? There are trays available for that as well!
The optional universal egg tray comes with dividers to allow you incubate different size eggs by adjusting the plastic dividers to different widths. This way, you can even incubate different types of eggs on the same tray so you can truly maximize your incubation space!
The above images show some of the testing done on the unit, including heat and air flow analysis, as well as the 3d design computer simulation.
Computer designed and precision engineered, this incubator has been thoroughly tested and tweaked to provide maximum results. Some of the unique components of the design include a sliding egg turning system, a heating humidification unit, a multi-fan air booster, sliding trays, patented humidity and temperature sensors, dual paned viewing window, and front water inlet. These, along with the dual panel insulation board, make it a unique and quality machine, that also boasts easy maintenance and cleaning.