Hova-Bator Genesis 12 Volt, Digital Incubator & Automatic Egg Turner $495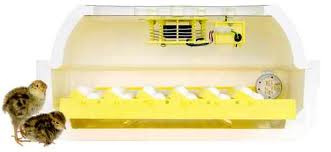 Details
The Genesis Hova-Bator is pre-set for bird eggs. Simply plug it in, then add water and eggs. Nothing to set up or adjust. This circulated air Hova-Bator comes with a thermometer, plastic bottom liner, and is pre-set to 99. F (38 C). Being digital and pre-set, this incubator delivers consistently good hatches.
-Excellent for classrooms, novices, and experts. 12 Volt system is safe.
-Although it is pre-set to 99 F, the thermostat can be adjusted. The 1588 can be set as low as 80 F. for use with reptiles.
-Soft-Air fan technology provides needed oxygen and refreshes air without forcing air directly on the eggs.
-Includes a 12V DC power converter for 220/240V AC, Plugs into a standard NZ 3 pin power socket or can be connected to a 12volt battery Using the supplied battery clips.
Comes complete with an Automatic Egg Turner NOTE Egg Turner is 220/240 Volt not 12Volt.
The automatic egg turner eliminates the need to manually turn the eggs in your Hova-bator incubator. During incubation eggs must be turned 3-4 times per day to keep the yolk from settling to one side and to exercise the embryo. Turning the eggs by hand only takes a minute but must be done consistently. The automatic egg turner saves you the time and trouble of this repetitive task. The turner comes with 2 complete sets of egg racks, six universal racks, which can each hold seven eggs ranging in size from partridge to duck/chicken (42 eggs total), and six quail egg racks which can each hold 20 quail eggs (120 eggs total).