Interheat Lamp Protector, Complet with 250watt Lamp, $105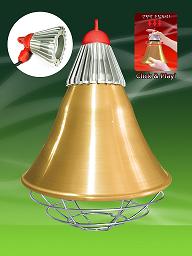 Interheat Lamp Protector Including 250 watt Infra-red Heat Lamp.
After considerable product research and field testing Interheat have produced this lamp holder that is ideal for piggeries, chicken sheds and reptiles houses to name a few uses. The unit is supplied already wired with a three pin plug and cord. Has a two heat setting switch to adjust the heat as the chicks get older.
A 250watt lamp will do between 1 and 100 chicks.
After 8-14 days you can switch the Reflector to half heat setting.
If the chicks are sitting directly under the lamp then lower it to produce more heat. If the chicks are out in the corners away from the heat it is too hot so raise the lamp higher.
Place Reflector between 600-900mm above the chicks. (Do not go closer than 600mm)
Price $105