Rcom King Suro $575NZ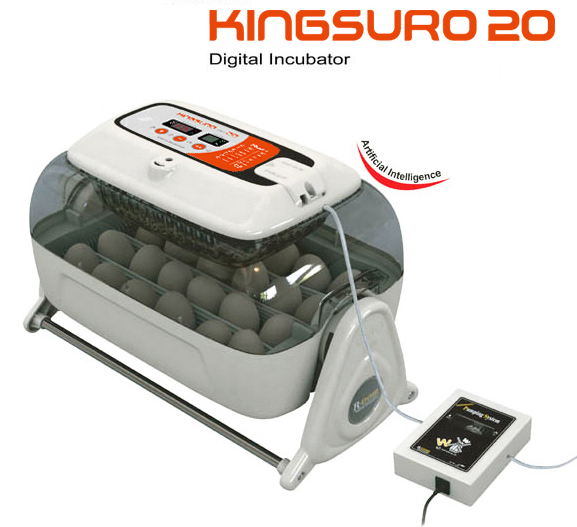 Rcom King Suro $575NZ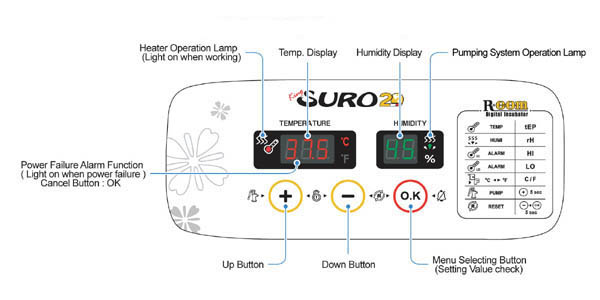 Features:
· High refined design with streamlined shape
· For the beginner to the professional, the most competitive with high quality
· Automatic Temp. & Humidity Setting and Control function
· Temperature and humidity calibration and setting function by user ( Factory setting: 37.5 degrees C, 45%)
· Temperature display, 'C/'F changeable
· Automatic egg turning available with Auto Egg Cradle (EGG VAN) as per 1 hour
· Humidification control Function with Automatic Pumping System (A.P.S.)
· Large clear View Window
· 24 Hen egg capacity (or equivalent)
· Electronic Control parts on- touch attachable and detachable
· 4 air ventilation holes
· Duplicated insulation base by bottom body and egg tray
· Universal Tray for all egg types
What is Automatic Pumping System (A.P.S.)?
A.P.S. – ST is designed for easy use by adapting new tubing system developed by R-COM which is attachable and detachable with 4 rollers increasing durability. It can be available in every use to pump up the water, especially for other brand incubator. APS-PRO is originally designed for the incubators which have no humidity control function. Since the user can read humidity in the egg chamber and even control the humidity by simple attachment, it is very handy to use with the non humidifying control incubators.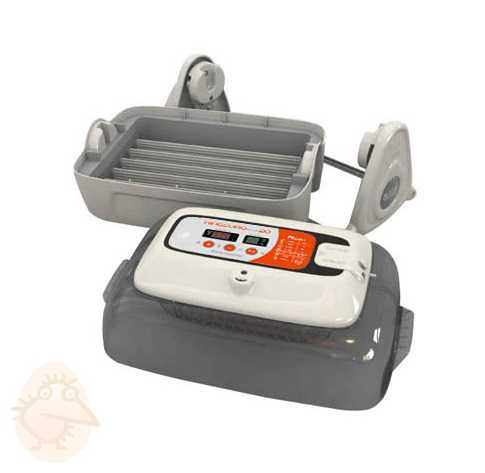 Specification:
Power Consumption: 220V ~ 240V
Power Consumption (Incubator)

Ideal: 25W

Max: 48W

Power Consumption (Egg Van)

Ideal: 4W

Size

Incubator only:

(W)370 x (D)231 x (H)209 (mm)

Including EGG VAN:

(W)432 x (D)231 x (H)262 (mm)

Weigh

Incubator only: 1.9 kg

Including EGG VAN: 2.5 kg

R-COM King SURO

Quail

60 eggs

Maximum Setting

Pheasant

40 eggs

Capacity

Amazon/Macaw

36 eggs

Hen

Duck

Goose

24 eggs

20 eggs

9-12 eggs