Rcom Mini Incubator $285NZ
The process of incubating and hatching eggs is a delight to watch and is made easy with the new R-COM 3 egg incubator.
Designed in Korea as an educational incubator the RCOM really works! Three hens eggs are gently warmed and turned automatically as they incubate and the display even counts down each day to tell you when they are due to hatch.
The R COM Mini Incubator is menu driven and extremely easy to use: just choose between one of the 5 settings (chicken, duck, pheasant, quail or mystery bird - to be programmed) and the micro-controller holds the correct temperature, turning and length of incubation. Turning will even stop automatically 2 days prior to hatching; all you need do is top up periodically with water. Detailed, attractive instructions are supplied to guide you through the do's and don'ts.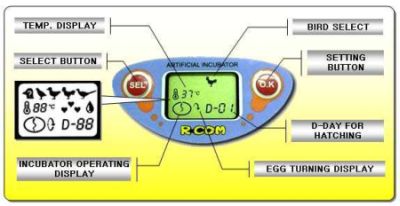 Features:
For learners, hobbyists, or teachers

37.5°C automatic temperature control

Automatic egg-turning with auto stop 2 days prior to hatching and warning buzzer

Count down to hatch day

Optimum conditions of incubation

LCD shows all information

3 indentations accommodate eggs of all sizes from large duck eggs down to quail eggs without any additional device

BLDC motor for air circulation (low noise, long life)

Large view window to observe eggs and chicks

Sensor and alarm if the view window is open

Sensor and alarm for water supply

Floating device to prevent water from overflowing

Robust hygienic plastic construction
Can be used as a temporary living place after incubation